Upcoming APAH Properties
Queens Court
In 2014, Arlington County Board launched the Western Rosslyn Area Planning Study (WRAPS) process to develop a new vision for the area. Formally adopted by the Board in 2015, this integrated planning effort of more than 1 million sq. feet – including a new Arlington Public School, market rate housing, and fire station – enabled Queens Court to be redeveloped from our existing 39-unit property into a new 12-story property with 249 units of committed affordable housing. Construction began in April 2019 and is expected to be completed in spring 2021.
Learn more by reading our Queens Court Property Investor Sheet or visit the property's website.
Lucille and Bruce Terwilliger Place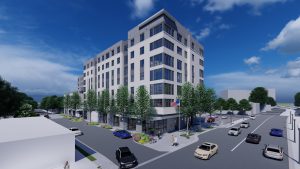 In 2016, the American Legion Post 139 selected APAH to redevelop their site in Virginia Square to create 160 affordable apartments and a new, modern Post facility. The Arlington County Board adopted the Washington Boulevard and Kirkwood Road Special GLUP Study "Plus" and Concept Plan in 2017, unlocking the site for greater density, and the project received site plan approval in February 2018. The affordable housing development will have 50% veterans preference. The project broke ground in May 2020. Construction is expected to be completed in 2022.
Learn more by reading our Terwilliger Place Investor Sheet.
Mt. Sterling Senior
In 2018, APAH established a joint venture with the E&G Group to develop a 98-unit affordable property for seniors. The project secured funding from Loudoun County's Housing Trust Fund, as well as 9% LIHTC financing, in 2019. Mt. Sterling Senior was designed as a hybrid 9%/4% tax credit project, making this APAH's fifth deal to utilize the complex but effective financing tool. The project is expected to break ground in fall 2020.
Learn more by reading our Mount Sterling Investor Sheet.
Oakwood Senior
In late 2018, Fairfax County awarded APAH the rights to redevelop an underutilized stormwater retention area owned by the County into 150 affordable apartments for independent seniors. The location is located just 1/2 mile from the Van Dorn Metro Station and one mile from the Kingstown retail center. APAH secured competitive 9% tax credits in 2020 and expects to break ground in 2021.
Learn more by reading our Oakwood Senior Investor Sheet.