Upcoming APAH Properties
Columbia Hills Apartments
Columbia Hills opened in October 2018, bringing 229 new affordable homes to the Columbia Forest neighborhood. One of the first projects to be developed under Arlington County's award-winning Columbia Pike Neighborhoods Plan, this development includes 10 permanent supportive housing units and 13 fully accessible units to meet the diverse needs of the community. Learn more by reading our Columbia Hills Property Investor Sheet.
Columbia Hills is now leasing! 
Submit your application for Columbia Hills!
Fisher House II
Westover is a vibrant neighborhood in northwest Arlington that is facing a critical shortage of affordable homes. Our Fisher House II development seeks to address this need. In 2016, APAH purchased 8 buildings (68 units) in Westover to preserve affordability amidst the trend of market affordable apartment demolition. Renovations for the Fisher House II buildings began in Spring 2018. There will be several accessible units, as well as eight units designated for permanent supportive housing. Learn more by reading our Fisher House II Property Investor Sheet.
Fisher House II is now leasing! Move-ins will continue through April 2019.
Submit your Waitlist Application for Fisher House II!
Gilliam Place
In 2012, the Arlington Presbyterian Church approached APAH to create a space that would both provide affordable housing and serve as a place of crossroads and connection for the community. The congregation selected the name Gilliam Place for the new affordable housing development to honor Ronda Gilliam (1906-1970), a church elder who was a steward and visionary in the community. Gilliam Place's 173 new affordable units will include 11 barrier-free units to meet the needs of persons with disabilities. Learn more by reading our Gilliam Place Property Investor Sheet.
Construction began in summer 2017, and Gilliam Place is expected to be completed in mid-2019. Prospective residents can learn more here.
Submit your Waitlist Application for Gilliam Place!
Queens Court
In 2014, Arlington County Board launched the Western Rosslyn Area Planning Study (WRAPS) process to develop a new vision for the area. Formally adopted by the Board in 2015, this integrated planning effort of more than 1 million sq. feet – including a new Arlington Public School, market rate housing, and fire station – enabled Queens Court to be redeveloped from our existing 39-unit property into a 12-story property with 249 units of committed affordable housing. In February 2017, the Arlington County Board approved APAH's request to redevelop Queens Court. APAH secured the necessary LIHTC tax credits in 2018 and plans to break ground in Spring 2019.
Learn more by reading our Queens Court Property Investor Sheet.
American Legion Post 139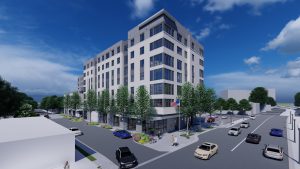 In 2016, the American Legion Post 139 selected APAH to redevelop their site in Virginia Square into a new modern Post and 160 affordable apartments. The project reached a major milestone in November 2017, when the Arlington County Board adopted the Washington Boulevard and Kirkwood Road Special GLUP Study "Plus" and Concept Plan, and the project is currently seeking site plan approval. APAH worked with Arlington's  Department of Human Services to secure the first allocation of HUD-VASH vouchers for the County. The affordable housing development will have 50% veterans preference.